I've shared many strategies to increase website traffic in this blog and here is another easy strategy that you can implement in less than 30 minutes from now.
The strategy is to publish your existing website in different languages and increase your website traffic from the search engines.
This is not a new strategy, but I kind of forgotten about it until one member asked about website translation in our Tuesday With Kenneth Q&A session. (See, when you help people, you help yourself!)
To give this strategy a test, I translated 5 of my niche sites in December 2008 and then I simply waited……
> I was waiting for the Search spiders to digest the new contents.
> I was also waiting for the month of January to pass so that I can report my 1 month result to you.
It's February now and I'm ready to show you the result from my test.
Here's a screenshot of the traffic stats from one of the websites in the test: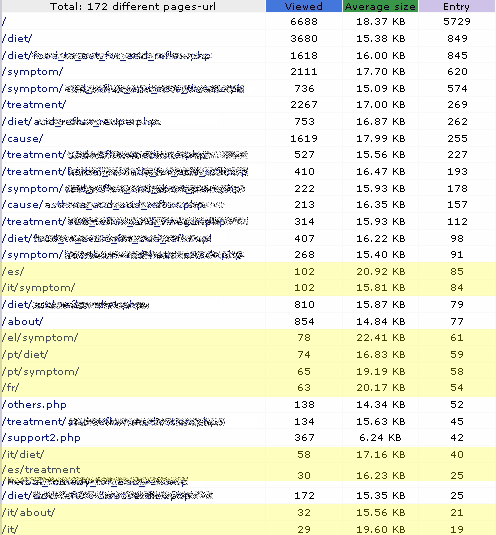 Look at the highlighted stats. These are the traffic to the translated pages. Pretty impressive isn't it?
What I'm showing you is just the top results. There are hundreds of other translated pages receiving small amount of website traffic like 5 to 10 visits. Never underestimate such traffic because they easily add up to a few thousands extra traffic to your website every month!
How To Translate Your Entire Website In Less Than 30 Minutes?
I translated the website above into 34 different languages and it took me less than 30 minutes. (I can do it in 5 minutes now!)
Obviously, I didn't rewrite the articles. I simply uploaded a script to my website and added some codes to the homepage. That's all!
The script automatically converted my entire website into 34 different languages.
The powerful part is the converted pages are search engine friendly. That's why I'm getting thousands of extra website traffic to these pages, all from the search engines.
I told you that I tested this traffic strategy on 5 websites. What about the other 4? Do they all experience increase in website traffic?
Yes, they did.
Every one of them recorded significant increase in website traffic. Adsense earnings from these 5 sites also soared by 17%.
This is definitely one of the easiest strategies I've used to increase website traffic. Go ahead and try it. You won't regret.