In the past, we have been talking about keyword research, link building and other search engine optimization techniques. Today, let me illustrate to you what I mean by search engine traffic.
For example, last week, I posted an article titled "4 Essential Tools To Create Traffic To A Website". Similar to many other LeadsLeap blog posts, the title wasn't plucked from the sky. It was the result of careful keyword research.
Here's a screenshot of the keyword research result: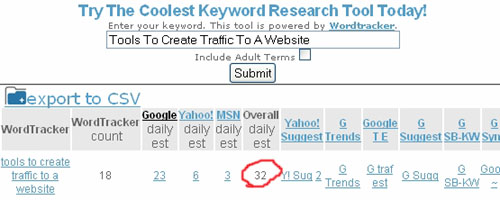 As you can see, the keyword phrase "Tools To Create Traffic To A Website" is searched 32 times a day. That's close to 1000 searches a month!
There are two ways to tap into this traffic. One way is by paying the search engines (i.e. Adwords etc). Another way is by getting to the top of the generic search result, through search engine optimization.
Both the paid ads and generic search result for this keyword phrase are shown in the screenshot below: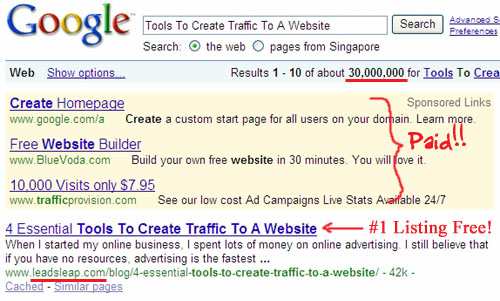 Can you see who is sitting at the #1 position of the 30,000,000 search results? Yes, it's LeadsLeap.
The article we posted last week is now in the #1 position of Google search result.
With close to 1000 searches a month and being the first in the listing (after the ads), you bet we're going to get some traffic from there.
That's what search engine traffic is all about!
Before I end today's article, let's do a quick summary of what it takes to start getting traffic from the search engines to your website.
1. Keyword research (to find the right traffic generating keywords to target)
2. Search engine optimized content (to please the search engines and human visitors)
3. A website with lots of quality backlinks (to greatly increase your chance of getting the top ranking.)
Alternatively (or should I say 'Additionally'), post your ad in LeadsLeap. Some of the traffic we've generated may click your ad and go to your website.