My main objective of this post is to explain to you what LeadsLeap Widget 2.0 is all about and how it will impact you. In the next few days, I'll continue to update you on some other changes we have made.
The main differences between the old widget and Widget 2.0.
The old widget shows links to our blog posts.
That has been one of the ways we generate traffic to our blog, which in turn generates traffic to our members because our blog has our members' ads shown. This method has been working for the past 5 years!
But one day, I thought, why am I so stupid?
The ad format in our blog has been proven to get clicks. It has also generated lots of new sign ups. What will happen if we bypass our blog and have the ads shown directly on our members' sites?
This means we will get a lot more traffic for our members, and also a lot more referrals for those who display the widget!
With this idea, Widget 2.0 is born.
Widget 2.0 is a widget that shows our members' ads in the same format as the ads in our blog.
Whenever someone clicks the ad, you'll earn even credits.
Here is a screenshot of one of our members' sites with Widget 2.0 added.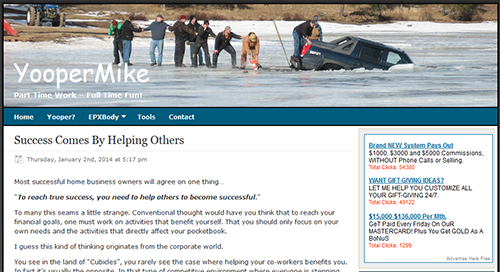 If you've added our widget to your website, here is what you should know:
1. Your current widget will automatically be updated into Widget 2.0.
BUT I strongly advise you to update the code because the new code is now ad-block proof! This means the new widget code will bypass most ad-blockers.
2. You will earn credits whenever someone click the links in the widget.
3. Your ad will now be shown on other members sites, which means more exposure and traffic for you.
If you have not added our widget to your website, here is why you should do it now:
1. Only members who add the widget to their sites can have their ad shown on other widgets.
This means if you want your ad to be shown in other members' sites, you will have to add Widget 2.0 to your own site. (Our system will auto-detect your widget.)
2. You earn credits on autopilot whenever people click the links in the widget.
"Kenneth, wouldn't the Widget send traffic away from my website?"
Some of you may have the concern that since Widget 2.0 is actually an ad unit, it will send traffic away from your site to other members' sites.
This is a valid concern. But if you think from another level, the Widget is actually helping you to KEEP your traffic.
Think about this.
How well do you convert your traffic into your list? Perhaps 5%? The rest of the traffic are lost.
If you place Widget 2.0 at a prominent place of your website/blog, your traffic will notice it.
Take a look at the ads in this blog. The ad format is the same.
Your traffic will be wondering why these ads get so much hits.
They will also be wondering how they can post their link for free.
Chances are, they will click the link and join your team at LeadsLeap. Then you will be able to advertise to them and the other 9-levels of leads they bring in, for life!
These are leads that you may otherwise miss.
As you can see, adding the Widget will actually increase your chance of keeping the traffic with you.
As I said earlier, this is not a theory. It's the way we generate traffic for our members and bring in new members in the past 6 years! We simply duplicate what works in our blog across our members' sites, and bring the entire system to a whole new level.
LeadsLeap Widget 2.0 is going to be a game changer. If you have not added the widget to your website, click here to get the code now. It's time to put the LeadsLeap system on steroids and bring in A LOT more traffic and leads for you!