"Is it possible to modify the time zone on my profile to GMT+2 as the current dates for my statics is misaligned to my local time zone."
This is a recent request sent to our support center.
Yes, we've done exactly what is requested.
From now on, the stats in The Real Tracker (TRT) and LeadsLeap Advertising are displayed based on your Preferred Time Zone.
How To Set Your Preferred Time Zone?
Login to My Profile, look under 'Preferred Time Zone' (see arrow 1).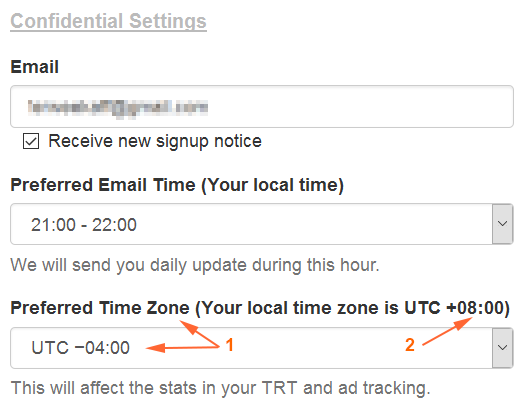 The system will automatically detect your current time zone (see arrow 2).
You can set your Preferred Time Zone to your current time zone or any time zone you want.
That's it!
Once you do that, the next time you view the stats in The Real Tracker or your Free or Pro Ads, the stats will be based on your Preferred Time Zone.
Here is another request…
"The link I am trying to track is blank. Why and what should I do?"
Here is why.
Some websites prevent themselves from being cloaked, by throwing a blank screen or breaking out of the iframe when being cloaked.
What is cloaking?
Cloaking is a means to hide the actual url of the website. Technically, this is done by placing the website inside an iframe, so that the visitors will not see the actual url in the browser's Address Bar.
Our TRT system uses such a system for advanced tracking, such as duration and response tracking.
If you happen to track one of such links, you can now disable cloaking.
Here is how to do it.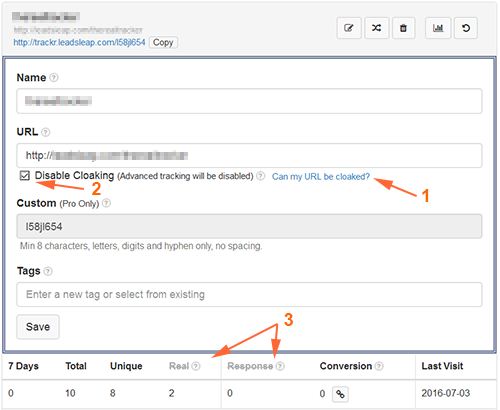 1) Check whether your url can be cloaked (arrow 1)
If you can see your website in the preview panel, it means your url can be cloaked. In this case, there is no need to disabled cloaking. Otherwise, go to Step 2.
2) If your website cannot be cloaked, check the 'Disable Cloaking' option (arrow 2)
When you disable cloaking, the advance feature settings will be automatically hidden. You will also see that in the traffic summary, Real Visit and Response tracking are cancelled (arrow 3). This is to show you that these trackings are not possible when cloaking is disabled.
I need to emphasize that most urls have no problem with cloaking. This means most of the time, there is no need to disable cloaking.
That's all for today. I hope you'll find these two 2 features useful. More features are in the pipeline…