One of the most common suggestions we've received from our members is to create a widget that members can put on their websites and earn credits from.
The most typical suggestion was to display PRO members' ads in the widget and when visitors on your blog/website click on the ads, you earn credits.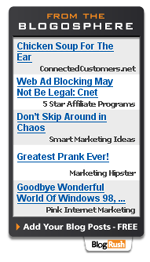 The idea is similar to the "once-popular" BlogRush widget shown on the right.
PRO members get more traffic. You earn more credits to show your ad.
Sounds good?
I don't think so.
My main concern is, who is going to click those ads?
My Experience From Adsense Marketing
In Adsense, any experienced marketer will advice you to remove the frame from your Adsense ad and make your ad blend-in with the rest of the contents. That's the least you need to do to improve the click-through.
If you want a sample of what I mean, take a look at all the LeadsLeap contextual ads in this blog, yes, the blog you're reading now. You don't see me putting a frame around the ads, do you?
If we were to create an ad widget similar to BlogRush widget, I can imagine the click-through will be low!
If the click-through is low, you don't earn much credit. It defeats the purpose of putting a widget on your website.
A Good Suggestion From A Member
While I was still cracking my mind for a solution, I received another suggestion from our member, Marty L. (Marty, a big thank you to you!)
Here's what he wrote to me:
"Perhaps a widget linking to the viral blog. The member who posts the widget on their site connects to their LeadsLeap blog."
That is a great idea.
As you know, LeadsLeap blog is a viral blog. You can earn credits, build leads and make money simply by sending people to the blog. It makes sense to have a widget that enhances this feature.
Can't wait to see how your LeadsLeap widget will look like? Here's a working sample:
When your visitors see your LeadsLeap widget, they know that you are recommending them to a blog post. They will be more willing to click through your widget and read the post.
As they click, you earn credits.
As they click and join LeadsLeap, you build your network.
As they click and buy any of our product, you make money.
As they click and subsequently click on other members' ads, you earn more credits.
Last but not least, as they click and read our blog post, they will benefit from the contents and thank you for recommending the post to them.
With LeadsLeap widget, you can now earn credits without having to click on ads.
LeadsLeap widget is now ready. It comes in 9 different colors. Click here to get your customized widget now (login needed).
Check out these offers from our members: