Dear Netrepreneur,
Let's make this a quick one.
With all the testimonials you'll be seeing on this page, I believe you know something good is awaiting for you.
My job here is to explain to you how it works and what you can expect from the system.
Ready? Let's start......
What Is LeadsLeap?
LeadsLeap is a unique lead generation system that helps you to generate leads via a 3-prong approach. Below is a schematic illustration of how it works.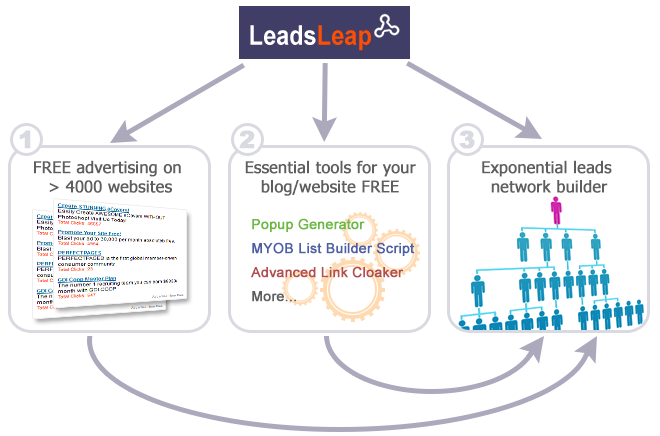 1. Free Advertising
As a member, you can post ad in our system. Your ad will be shown in our member's area and blog. It can also be shown on more than 4000 other websites operated by our members.
Below is a 'live' ad unit that you will see in our website and blog. Take a look at the total and weekly hit count in these ads. That's the kind of traffic our members are getting. Everyone gets traffic, as long as you follow our simple step-by-step action plan.
Advertising can be free or paid. Free advertising is through the use of credits, which can be earned by viewing other members' ads. Paid advertising is our premium service, where your ad will be shown across our entire network without the need of credits.
Advertising is the backbone of our system. It gives us the fund to operate the system and create free tools for help our members to build their businesses.
"Just one ad posting has brought in over 150 sales - and that's in just ONE WEEK!"
Just one ad posting has brought in over 150 sales - and that's in just ONE WEEK!

I still have a week left before I have to renew my ad!

I figured LeadsLeap was just 'another traffic exchange' program that ends up on the Junk Mail folder in my email client. I couldn't have been more wrong!

The newsletter has been worth it's weight in Gold with the great tools, products and information! And not having to 'Login' just to earn ad credits is an even bigger bonus! The ads are right in the email!

Just click on the links and earn credits! I am currently a member of several "TE's" and NONE of them can even come close to matching the perks and benefits of Leadsleap!

Keep up the great work guys! I know you will be bringing even MORE great tools online for us!

Mark Hultgren
http://2getsales.com
2. Free Marketing Tools
We invest a lot of money in developing killer tools that our members can use FREE.
These tools will give our members an unfair advantage to win the marketing game!
Check out some of the tools that are available. More are in the pipeline...

Free Tool #1: PopupXpert 'Event-Based' Popup Generator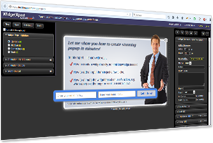 This is our latest addition and is yet another breakthrough in the industry.
If you think only programmers or marketers with big pockets can create 'original' and 'unique' animated popups or opt-in forms, you really have to see what our PopupXpert can do.
Seeing is believing. I urge you to
click here and check out the PopupXpert now
. When you are there, click the
Help
button to read the quick start guide. It will guide you along.
"PRICELESS!"
This is just what I needed. While playing around with the widget this morning I couldn't believe how easy it was. I'm sure it will easily become second nature for all who use it over time and as a list builder – PRICELESS!

My thanks for this great new tool. :)

Maurice Bernier
ThePowerOfOneIncome4Life.com

Free Tool #2: Free List Builder PHP Script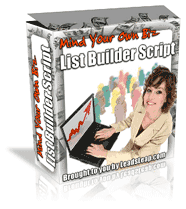 Have you ever dreamt of having a multi-functional website like what the other gurus are having? One that comes with.....
a complete autoresponder system (so you don't have to spend $20 a month on third party autoresponder services);
one-time-offer system to help you generate instant cash;
complete affiliate system for you to run your own affiliate program;
built-in banner rotation system, email advertising system and exit popup system for you to promote different programs easily.
This is possible if you have a powerful script like our proprietary List Builder PHP Script.
I can't share with you everything about this script in this short introduction. The best is to check it out yourself. Here's what one of our members say about the script:
"it makes everything so easy"
Just taken a good look at your give-away script for M.Y.O.B. list building site.

Outstanding!

Thank you so very much for the gift.

I intend to use it because it makes everything so easy, especially the admin area AND it comes complete with a built in auto-responder!

Being a member of the LeadsLeap community pays off in many ways.

Michael Searles
ExactNumerology.com

Free Tool #3: Advanced Link Cloaker
I call it
ADVANCED
Link Cloaker not because I want to hype it.
The link cloaker
REALLY
has some advanced features that are not found in any other link cloaking services.
Just to give you some idea:
It is 100% FREE from other people's ad. Link cloaker is meant to increase your conversion rate, not reduce!
Its Dual-URL feature allows you to send traffic to other sites without losing your affiliate commission.
"I've been looking a long time to find something that would help protect my Clickbank links from getting stolen and now thanks to LeadsLeap, I've found what I needed." - Maurice Bernier
You can use the Time-Sensitive AdFrame feature to promote other products and boost the conversion. (Another powerful feature not available anywhere in the world!)
"The Best Link Cloaker I've Ever Seen"

I have to say that the link cloaker is by far
the BEST link cloaker I've ever seen in my entire internet marketing experience
. How you came up with the idea is beyond me but
its genius
.
A
3-in-one promotion, Awesome!
There isn't another cloaker around like it.
Chad Flick
http://amazing1clickcovers.eoltt.com/
3. Exponential Leads Network Builder
Last but not least, Leadsleap comes with a 10-level network builder.
While using our free tools, it is inevitable that you will refer people to our website. Yes, you'll earn commissions when they purchase something from us. But what's more important is you are also building a network of leads that can grow exponentially!
Say if you simply refer 4 people to join LeadsLeap, and each of these 4 people refer 4 other people to join LeadsLeap. With our 10-level lead generation system, this means you will be able to reach out to 1,398,100 leads at 10-levels deep.
Of course, that is overly idealistic. Practically, it is quite common for our members to have a few hundred people in their team having referred only a handful of people personally. Not to forget that these leads will continue to grow, which means endless flow of new leads for you!
At this point, some of you may frown,
"Does that mean I'll have people flooding my email with ads?"
NO!
LeadsLeap is not some kind of safelist system. You will only receive informative and educational newsletters from us, no email from anyone else, guaranteed!
Your 10-levels of uplines can only reach you via a dedicated ad unit that is shown in your member's area and in the newsletters that we send to you. Similarly, you can reach out to 10-levels of your downlines via the same ad unit and the newsletters we send to them.
If you are doubtful about the quality of our newsletters, check out some of these testimonials from members who have read our newsletters:
"For a busy doctor like me, this is 'the goods!'."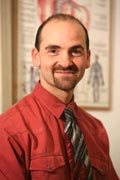 "Having been on the internet evaluating MANY different programs, it's hard for me to express how extremely valuable Leads Leap is.
The best word that comes to mind is
'CLEAN'!
It is compact, all the information in
one or two e-mails a week.
My inbox is not hit with a tidalwave of e-mails from everybody!!
This absolutely increases the 'wanting' to read the e-mail when it comes & visiting the other advertisers ads is a pleasure, not a chore!
Plus the fact that each episode (it's like a little mini TVshow :-) ) has so much
good content, training & tips is even more exciting!
For a busy doctor like me, this is 'the goods!'.
If I could give it more than 10 out of 10, I would!"Dr. Marco Caravaggio
http://www.homebusinessmoneymakers.blogspot.com
"As an experienced marketer. . . . . . I too have received great benefit from it ."
As an experienced marketer, I must compliment you on your $1000 outline that you have been putting in the newsletter. And, believe it or not, I too have received great benefit from it.
It has taken me back to the basics and generated new ideas that I had not thought of before. For that, a huge THANK YOU!!! Guess old dogs can benefit too. ~smile~
Keep it up. Perhaps I'll have even more great ideas to pursue. Also,
for those just starting out, perhaps it will answer the ever present question of where to start first
."
Art
www.how-to-write-an-article.com
"I tried to figure out why your newsletter is so special and the only conclusion I get is. ."
Thank you for the daily newsletters. I think you're doing a great job!

I like it because it isn't like the ordinary newsletters I'm getting every day.

I tried to figure out why your newsletter is so special and the only conclusion I get is because it's helping me in forming my concepts, giving me the links to click on the same page as well as a login opportunity.

Yes! Your newsletter is VERY helpful.

Agatha
"Every Newsletter has been saved onto my hard drive and re-read."
I am an absolute, know-nothing newbie, and so I have been reading everything I can get my hands on and downloading whatever I can find.

My fact-finding mission has taken me 3 months, but has left me with confusion alongside a better understanding of the industry. I have now started to unsubscribe from sites that give me no new information or always try to sell me the same things.

However, I have to say that every newsletter that I have received from LeadsLeap, has been read where others have just been deleted; each one has been saved onto my hard drive and re-read.

Why? Because the content is clear, understandable, grammatically correct, and worthwhile, useful and practical information, that can be applied.

Thank you Kenneth, for advancing my knowledge and increasing my confidence.

Elizabeth
"I Stay Subscribed Because Of The Content In Your Newsletter. . . . . ."
Because Paypal has limited my account I haven't been able to take advantage of all that your program has to offer.

I stay subscribed because of the content in your newsletter which I believe will assist me in generating an income from home.

Thanks
John Jackson
john**@iprimus.com.au
A Time-Tested System
LeadsLeap started in 2008 and it has withstood the test of time. Our success has no secret. We strive to provide real values to our members, so as to keep them coming back to our website.
Member retention is our top priority and our unsubscribe rate is extremely low. We understand that it is only when we retain our members that we can provide more traffic to you.
Enough said. It's Action Time!
Simply enter your information below and you are ready to start.
Once you sign up as a member, you will be able to set up your ad and have it appear in our network. It's as simple as that!
What I've shared with you here is just the tip of the icebreg. There are a lot more things you can do with your LeadsLeap membership. I'll share with you more on the inside...
YES, I Want More Leads Now!
I want to get in now and advertise my ad FREE. I also want to have instant access to all the marketing tools and training materials at ZERO COST!
More testimonials from our members...
"I've been marketing online for 8 years now and I've never seen anything like LeadsLeap!"

I've been with LeadsLeap since the beginning and all I can say is WOW!
Thanks to the new ad credits and marketing information,
I've added 13 new quality leads in 2 days!
This site is awesome and you just keep adding more and more resources and information!
I've been marketing online for 8 years now and I've never seen anything like LeadsLeap!

Thanks Kenneth for everything you are doing to help us!
Rodney Coleman
http://100kadvisor.ning.com/profile/RodneyColeman
"I get hits and sign ups to my advertised sites."

Wow over 110 Leadsleap signed up under me!
With members building on 4 levels and a bunch of upgrades, I'm loving this site!
Thanks Kenneth...
I look forward to every issue of your e-zine.... every time it comes out I get hits and sign ups to my advertised sites.
Keep up the awesome job!
Jason Lamure
my-easy-promoter.com
"I don't have to spend hours clicking on ads to earn credits. "

I have found LeadsLeap to be a terrific network marketing tool.
I appreciate the viral blog, the convenience of getting quality information and updates by email, and the opportunity to direct visitors to my doorway page.
Unlike most traffic exchanges, with LeadsLeap I don't have to spend hours clicking on ads to earn credits.
Thank You!
Melanie Kissell

Information Services Professional http://melanie.mentoringforfree.com
"With LeadsLeap, I now received very minimal emails"

Hi Kenneth! Thank you for your effort and your unique system as
I'm tired or receiving tons of "not so useful" emails from other lead building program.
With LeadsLeap,
I now received very minimal emails and most of the emails are highly valued.
V Chong
http://www.multiplexsuccess.com
"Leadsleap is a great place to advertise for results."

Leadsleap is a great Traffic Generating program that I get results from.
Your newsletter keep me informed of new and effective educational tools which are of great value to my business.
I could not overlook the Customer/Admin relationship.
There is always someone there to help at all times.
Keep up the good work, Leadsleap is a great place to advertise for results.
Hortense Stewart
http://hotshorturl.com/mr98
"It's traffic generation capability is 2nd to none"

Leadsleap is a fantastic and ingenious service that helped my new online opportunity 'leaps and bounds'.
It's traffic generation capability is 2nd to none, but even more important is the phenomenal Education LeadsLeap provide you to succeed online.
Brilliant service and I highly recommend using them. Well done Kenneth and the team!
Adrian, London, UK